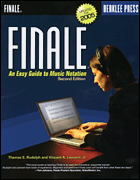 Finale - An Easy Guide to Music Notation: Second Edition by Rudolph and Leonard

Softcover - 384 pages + CD-ROM. Berklee Music Press - 2005. ISBN: 0876390688.

From the publisher...

Everything you want to know about music notation with Finale! Master Finale step-by-step with the most complete how-to guide available. Designed for both novice and experienced users, this is your detailed resource to fully understanding and applying all of Finale's remarkable capabilities.

Easy-to-follow instructions help you to: create publisher-quality music notation; learn to use the tools of Finale while writing your own music and arrangements; get started immediately with hundreds of professional templates, partially completed notation files, and libraries available on the companion website (www.FINALEBOOK.com); print transposed parts from scores automatically; write standard notation, guitar tablature, drum set parts, and more with this comprehensive hands-on tutorial.

Teachers can create warm-up and practice exercises; write their own compositions, arrangements and method books; and simplify parts for students.

The companion website, www.FINALEBOOK.COM, offers:

Tutorial Files
Samples of partially completed and finished music notation files for each of the hundreds of hands-on exercises in the book
Libraries of articulations and dynamics
Additional chapters
Professional Templates: Choral, Concert Band, Jazz Ensemble, Marching Band, Orchestra, Single Line and Grand Staff, Pit and Show, and Sketch and Utilities templates including a Cue Sheet for radio and TV.


"This book excels at teaching Finale in an easy-to-understand, sequential manner. Rudolph and Leonard have loads of experience. Beginners and seasoned Finale users will benefit from what these two teach." Tom Johnson, Finale Product Specialist, MakeMusic!, Inc.

List price $34.95 Our price: $34.95
Please select either "within USA" or "outside USA" below...
Ordering within the USA...
Our price: $34.95 + $8.95 shipping
Delivery in 2-3 days.
Total: $43.90

Ordering from outside the USA...
Our price: $34.95 + $20 shipping for first item, others $6 each.
Delivery in 5-7 days by Airmail.
Total: $54.95