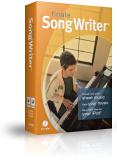 Finale Songwriter 2010 by MakeMusic (Coda Music Technology)
Finale SongWriter makes it easy for you to create and print sheet music on your PC or Macintosh. Now you can put down your pen and let Finale SongWriter bring your inspiration and creativity to its utmost potential.

Click notes onto the staff and hear the pitches - drag them up and down to find the pitches you want. Play a MIDI keyboard and see the music appear instantly. Import and export MIDI files. Add lyrics with multiple verses. For more info, see Finale Songwriter.

List price $49.95 Our price: $49.95

Please select either "within USA" or "outside USA" below...
Finale Songwriter
Ordering within the USA...
Our price: $49.95 + $5.95 shipping
Total: $55.90

Ordering from outside the USA...
Our price: $49.95 + $10 shipping for first item, others $6 each.
Total: $59.95