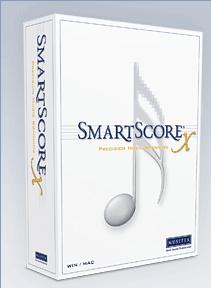 SmartScore X MIDI Edition by Musitek

New product... Turn sheet music into MIDI & .WAV files. Includes notatiation & MIDI editing as well as single-line TAB-to-notation recognition / conversion. Apply various MIDI instruments to voices or parts. Edit score in familiar "piano roll" view. Import and export standard MIDI files. PDF recognition. NOTE: MIDI playback and CD recording only; no printing.

For version comparison, see SmartScore Editions Comparison Chart. For a demo version, see SMARTSCORE demos.

List price $49.00
Our price: $49.00

Please select either "within USA" or "outside USA" below...
Windows and Mac
Ordering within the USA...
Our price: $49.00 + $7.95 shipping
Total: $56.95

Ordering from outside the USA...
Our price: $49.00 + $10 shipping for first item, others $6 each.
Total: $59.00