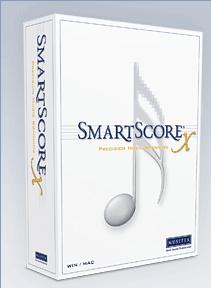 SmartScore X Pro Edition by Musitek

New version X! Musitek's flagship music scanning and notation program. Scan, edit and transpose your music in just minutes. There is simply no faster way to get printable music into your computer. Band arrangements, operas, hymns, musicals, orchestral parts and scores appear on-screen in editable and playable form within seconds after scanning. Recognition of nearly any PDF file. Super-accurate recognition of chord symbols, fretboards, percussion & tablature staves. Resize and rescale entire scores in seconds. A useful tool for all reasons. Export and open fully-formatted scores directly in Finale® or send to Sibelius®, Personal Composer®, and other scorewriters via MusicXML. Includes all the features found in every other SmartScore edition.

For a demo version, see SMARTSCORE demos. See what's new in SmartScore X Pro Edition here.

Also available in a reduced-price academic/church edition (see below).

List price $399.00
Our price: $329.00

Please select either "within USA" or "outside USA" below...
SmartScore X Pro, Windows and Mac
Ordering within the USA...
Our price: $329.00 + $7.95 shipping
Total: $336.95

Ordering from outside the USA...
Our price: $329.00 + $10 shipping for first item, others $6 each.
Total: $339.00

SmartScore X Pro (Academic) Windows and Mac
Ordering within the USA...
Our price: $239.00 + $7.95 shipping
Total: $246.95

Ordering from outside the USA...
Our price: $239.00 + $10 shipping for first item, others $6 each.
Total: $249.00