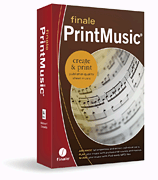 Finale PrintMusic 2011 by MakeMusic (Coda Music Technology)
Latest version of MakeMusic's easy-to-learn notation software for up to 24 staves.

Finale PrintMusic is the fast, easy way to bring your music to life with professional results. From the makers of FinaleŽ, PrintMusic is perfect for songwriters, students, teachers, church musicians, and band leaders.

Available for Windows and Macintosh.

Full product details here.

List price $119.95 Our price: $99.95
Please select either "within USA" or "outside USA" below...
Finale PrintMusic Windows/Macintosh hybrid version
Ordering within the USA...
Our price: $99.95 + $5.95 shipping
Total: $105.90

Ordering from outside the USA...
Our price: $99.95 + $10 shipping for first item, others $6 each.
Total: $109.95