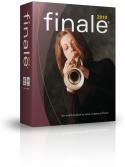 Finale 2010 by MakeMusic (Coda Music Technology)
2010 version of MakeMusic's top-of-the-line music notation program. Widely used by engravers across the world (see npc Imaging's Directory of Music Engravers). For a full feature list including those new to the 2010 version, see Finale 2010 features.

An Academic/Theological edition is also available.

List price $600.00 Our price: $435.00

Please select either "within USA" or "outside USA" below...
Windows/Mac hybrid package
Ordering within the USA...
Our price: $435.00 + $7.95 shipping
Total: $442.95

Ordering from outside the USA...
Our price: $435.00 + $10 shipping for first item, others $6 each.
Total: $445.00