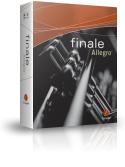 Finale Allegro (2007) by MakeMusic (Coda Music Technology)
A lower cost alternative giving educators, performing musicians, composers, arrangers and worship directors all the MIDI and notation tools they need to create publisher-quality scores, while leaving out the detailed engraving options found in Allegro's "parent," Finale.

View the detailed feature list of all MakeMusic notation products here.

List price $199.00 Our price: $169.00
Please select either "within USA" or "outside USA" below...
Hybrid Windows/Macintosh version
Ordering within the USA...
Our price: $169.00 + $7.95 shipping
Total: $176.95.

Ordering from outside the USA...
Our price: $169.00 + $10 shipping for first item, others $6 each.
Total: $179.00